Surgery
---
Gehrman Animal Hospital operates a full service surgical facility, performing a variety of routine elective procedures as well as complex, non-elective procedures.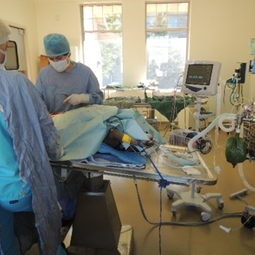 Routine surgeries are scheduled Monday through Friday. In most cases, your pet will return home the same day. Your pet will be monitored by a CVT throughout the anesthetic or sedation procedure, and their recovery. We have high tech monitoring equipment and highly skilled CVT's with advanced training in anesthesia. All animals must be up to date on vaccinations, recent complete bloodwork per doctor discretion.
Routine surgeries include spay or neuter, tumor removals, and dental procedures.
Non-routine surgeries may be performed either by a Gehrman Animal DVM, or by a visiting surgical specialist, and include procedures to address: ear, urogenital, orthopedic, gastrointestinal, oral and cancer conditions. If a specialist is needed, surgeons from Twin Cities Veterinary Surgery and Board certified surgeons are available to operate in our hospital. A consultation with one of our staff veterinarians will help you decide the best surgery option for your pet.